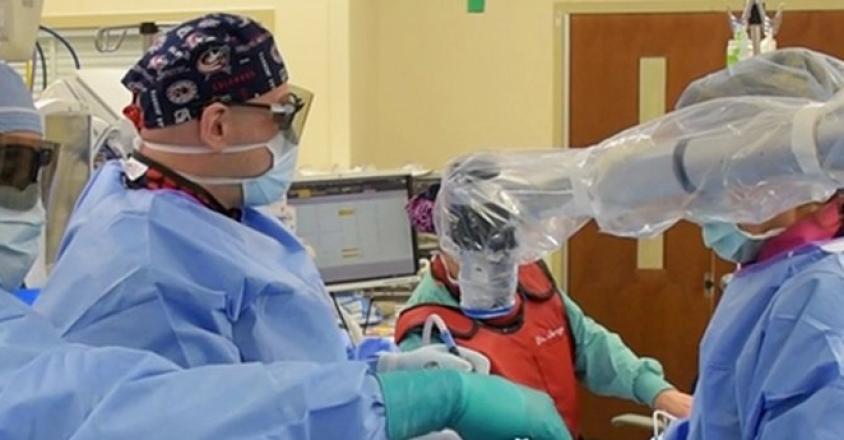 Genesis is First in Ohio to use ORBEYE Video Microscope
Zanesville, Ohio (Aug. 20, 2019) – Genesis HealthCare System is the first healthcare system in Ohio to acquire ORBEYE, the first 4K-3D video microscope. This new technology provides high-resolution 3D imaging, helping enable surgeons to perform more precise surgery and provide better surgical outcomes for patients.
"We are excited and proud to be the first in the state to use this emerging technology," said Nathan Amor, D.O, Genesis neurosurgeon. "In neurosurgery, precision and magnification are essential to patients having successful outcomes. ORBEYE enables our entire neurosurgical team to better visualize the structure of tissue, blood vessels and other small details. Our patients will benefit from procedures using this new video microscope."
Dr. Amor and Yasu Harasaki, M.D., Genesis neurosurgeon, use ORBEYE to perform brain and spine surgeries. The precise 4K-3D optical and digital images are viewed on a 55-inch monitor, enabling the surgeon and the surgical team to view the surgery in detail not previously available without the use of microscope eyepieces. The technology may also reduce surgeon fatigue during complex and lengthy surgeries.
The new microscope unit is approximately 95 percent smaller in volume above the surgical field than the previous model, freeing up surgical space and shortening operating room (OR) setup times. The microscope unit was also made 50 percent lighter than the previous model to facilitate its transportation between ORs.
ORBEYE was developed by Sony Olympus Medical Solutions Inc., (SOMED) a joint venture between Olympus Corporation and Sony Imaging Products & Solutions Inc.