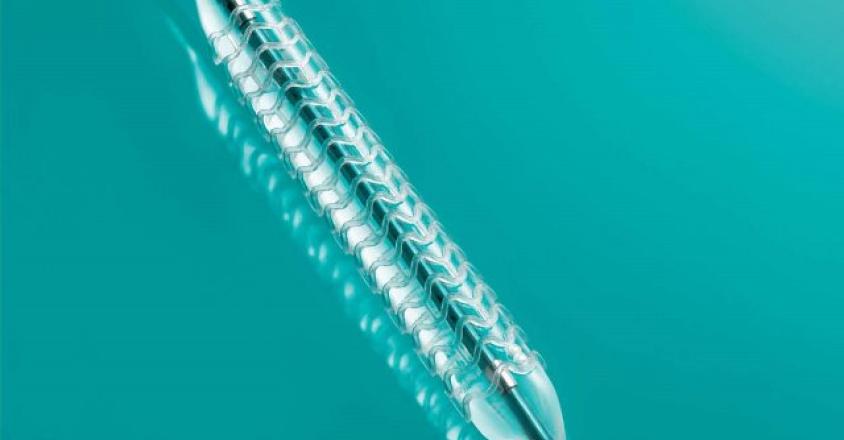 Genesis First in Central & Southeastern Ohio to Implant Dissolving Heart Stent
Stent disappears in about three years
The interventional cardiology team at Genesis Hospital recently became the first in Central and Southeastern Ohio to implant the world's first FDA-approved dissolving heart stent. The stent, called Absorb, is a bioresorbable vascular scaffold device manufactured by Abbott Vascular.
Traditional metal stents are permanent
While stents are traditionally made of metal, Abbott's Absorb stent is made of a naturally dissolving material, similar to dissolving sutures. Absorb disappears completely in about 3 years, after it has done its job of keeping a clogged artery open and promoting healing of the treated artery segment. By contrast, metal stents are permanent implants. Absorb dissolves except for two pairs of tiny metallic markers that remain in the artery to enable a physician to see where the device was placed.
Absorb stent dissolves in 3 years
"The Absorb stent opens clogged arteries to restore blood flow, then gradually dissolves in the body," said Abdulhay Albirini, M.D., FACC, interventional cardiologist with the Genesis Heart, Lung & Vascular Group, who is among the first to implant the stent in Ohio. "It will reduce the risk of future cardiac events that can occur with metal stents. Patients with heart disease will benefit long-term from this kind of intervention."
Second hospital in Ohio to implant
"Our interventional cardiology team underwent additional training on the new device," added Albirini. "We are pleased to be the second hospital in the state of Ohio and among a few in the nation to provide this technologically advanced treatment to heart patients in our community."
Absorb is the first and only fully-dissolving stent approved for the treatment of coronary artery disease which impacts over 15 million people in the United States and is the world's leading cause of death.
Why You Should Choose Genesis for Heart Care
Due to the critical nature of many heart issues, immediate access is critically important to making a full recovery. By assembling a premier heart team and an innovative center in Zanesville, patients in our region no longer need to travel far to receive the best possible care.
Make an Appointment
Make an appointment with one of our board certified specialists, including Cardiologists, Cardiothoracic Surgeons, Electrophysiologists and Cardiac Anesthesiologists.
Cambridge Office: 740-421-9234
Somerset Office: 740-836-0033
Zanesville Office: 740-454-0804