 Genesis Announces Community Service Award Recipient
Zanesville, OH (Oct. 2, 2015) – The Genesis HealthCare Foundation announced Shirley McCollister as the recipient of the 2015 Genesis Community Service Award. This award annually recognizes outstanding people in our area who have significantly contributed to the community and demonstrated the Genesis values of compassion, trust, innovation and excellence.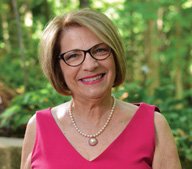 Shirley has made a difference in the community as president of Soroptomist International of Zanesville for several terms; member of the Genesis HealthCare System advisory board; and chairman of the Festival of Trees for 15 years. Her greatest contribution she believes is participating in the Festival of Trees. The fundraiser provided a new dental mobile trailer to provide care for children in need and also started a latchkey program for two area grade schools. "This program was well received by parents who had children going home to empty houses with no supervision," Shirley said.
Geraldine Zylinksy nominated Shirley and wrote on the nomination form: "I have never known such a hard working person. She is always taking care of others and is an inspiration to everyone she comes in contact with." Shirley will be honored at the Genesis Community Service award dinner in October.