 Forrestal Receives Award for Helping Patients with Parkinson's disease
Zanesville, Ohio (May 10, 2016) – Rhonda Forrestal, physical therapist, Genesis Rehabilitation Services, recently received the Betty Lindstrom Award from the National Parkinson's Foundation Ohio Chapter. The award recognizes individuals who give time and energy to those affected by Parkinson's disease (PD), has outstanding personal qualities, possesses a thorough knowledge of PD, and is involved in an activity devoted to improving the quality of life of individuals and families touched by PD.
Forrestal was instrumental in bringing the Rock Steady Boxing exercise program to the community. Genesis Rehabilitation Services was one of the first in Ohio to offer the unique program for patients fighting Parkinson's disease. She extends her care beyond work hours to help plan activities for patients in the exercise group.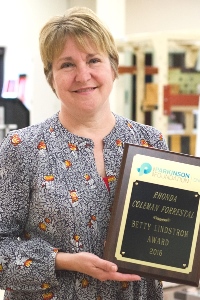 "It's been amazing to see the improvements in the patients' quality of life as a result of the exercise programs," said Lisa Lynn, manager, Genesis Rehabilitation Services. "We're glad we're able to offer these exercise programs closer to home for those in our community battling Parkinson's disease."